Habib Benedikt Elias
Singer, Pianist, Composer, Clarinetist, Music Teacher
VIDEO AUDIO BIOGRAPHY TEACHING PRESS CONTACT
SHORT INFO and CV IN ENGLISH, click here
Kurz-Info (mehr Details unter Biography)
Der Sänger, Pianist und Komponist Habib Benedikt Elias entdeckte schon mit 12 Jahren die Musik von Louis Armstrong und Benny Goodman und damit seine Faszination für den Jazz, die ihn bis heute begleitet.
Der freie Umgang mit musikalischen Formen und Elementen, das Improvisieren und die Offenheit des Jazz, unterschiedlichste Musikstile zu verbinden, bilden die Basis für Elias' Projekte.
Einflüsse aus dem Repertoire des französischen Chansons, des Bossa Novas und der Popmusik fließen genauso in seine Interpretationen und Songkompositionen ein wie sein klassisches Musikstudium (Klarinette, Operngesang), seine Erfahrungen in der Filmmusikkomposition und sein Interesse für Sprachen.
Aktuelle Projekte:
"Filmsongs", "Songs from the Movies"
Jazz-Arrangements und Improvisationen über Songs aus Filmmusiken und Filmmusik-Themen.
Video-Zusammenschnitt der "Filmsongs"-Jazz-Matinée im Waldhorn-Kino Rottenburg am 30.09.2018 im Quartett mit Martin Trostel: Piano, Florian Dohrmann: Bass´und Felix Schrack: Drums.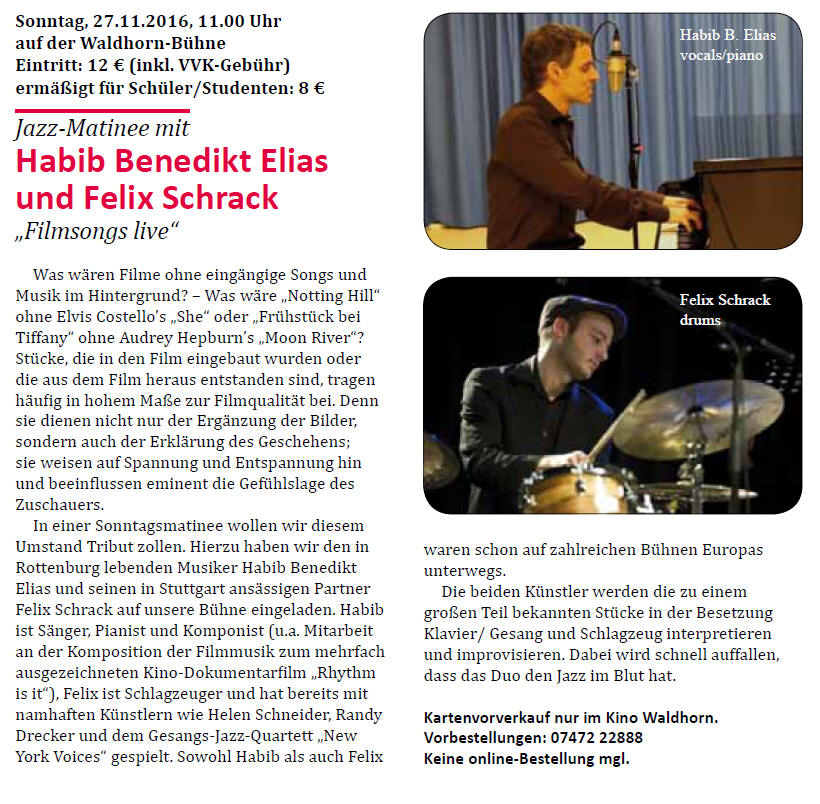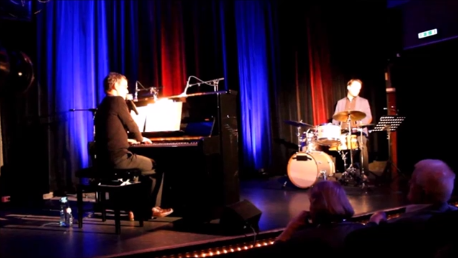 "Filmsongs - Live": Hier ein Video-Zusammenschnitt des Matinee-Konzerts im "Kino im Waldhorn", Rottenburg, November 2016, im Duo mit Felix Schrack: Drums.
"Voyage"
Jazzarrangements von Songs in englischer, deutscher, französischer, portugiesischer, spanischer und italienischer Sprache.
Wenn sich die unterschiedlichen Klangfarben und Ausdrucksformen verschiedener Sprachen mit den freien Interpretationen und Improvisationen des Jazz verbinden entsteht eine musikalische Spielwiese, und gleichzeitig geht es auch auf Reisen.
Der Titel "Voyage" (Reise) bezieht sich zum einen auf die Musiker, die Zuhörer, die in die Geschichten mit unterschiedlichen Sprachklängen und Erzählweisen eintauchen, zum anderen gehen auch die Songs selbst auf Reisen. Sie werden mit eigenen Interpretationen sozusagen aus ihrer Komfortzone herausgeholt, gehen neue Wege. Ein Chanson wie "Sous le ciel de Paris" scheint untrennbar mit dem 3/4-Walzer-Takt verbunden, dabei hat er Charakterseiten, erzählt Details, die gerade dann zum Tragen kommen, wenn der 3/4-Takt kaum auftaucht.
Bei diesem Programm trifft der poetisch wie populäre französiche Chanson auf den Bossa Nova, der seit den 60-Jahren der Jazz-Musik neue Facetten gegeben hat, und Standards aus dem American Songbook treffen auf philosophische Evergreens des italienischen Cantautore Paolo Conte.
Beispiele unter "Audio" und "Video"
SHORT INFO and CV IN ENGLISH (more details on Biography)
The singer, pianist and composer Habib Benedikt Elias discovered already at the age of 12 the music of Louis Armstrong and Benny Goodman and thereby his fascination for jazz music which accompanies him until today.
The free use of musical forms and elements, the improvising and the openness of jazz music to connect different stiles of music are the basis for Elias' projects.
Influences from the repertoire of the French Chanson, the Bossa Nova and the pop music flow into his interpretations and song compositions as well as his classical music studies (clarinet, opera singing), his experiences in film music composing and his interest in languages.
Current projects:
"Songs from the Movies":
Jazz arrangements and improvisations on songs and themes from movie soundtracks.
What would be movies without music, without catchy songs? What would be "Breakfast at Tiffany's" without Audrey Hepburn's "Moon River" or "The Wizard of Oz" without "Over the rainbow"?
Music that enters in the movie or emerges from the movie, contributes significantly to the movie quality.
It doesn't only serve to complement the pictures, but also to explain the events. It points to moments of tension and release and affects eminently the emotional state of the audience.
With the program "Songs from the Movies" the top-class quartet around the singer Habib Benedikt Elias (who, inter alia, participated in the award-winning cinema documentary "Rhythm is it") gives to this music an own stage and tells with its jazz interpretations from Charlie Chaplin's "Smile" to "Al otro lado del rio" from the movie "The Motorcycle Diaries" its own versions of the stories from the world of movies.
A musical journey from the French cinema across romantic comedies to independent movies.
Video compilation from the "Movie songs"- Jazz Matinée, "Waldhorn-Cinema" Rottenburg, 30.09.2018, quartet with Martin Trostel: Piano, Florian Dohrmann: Bass´and Felix Schrack: Drums.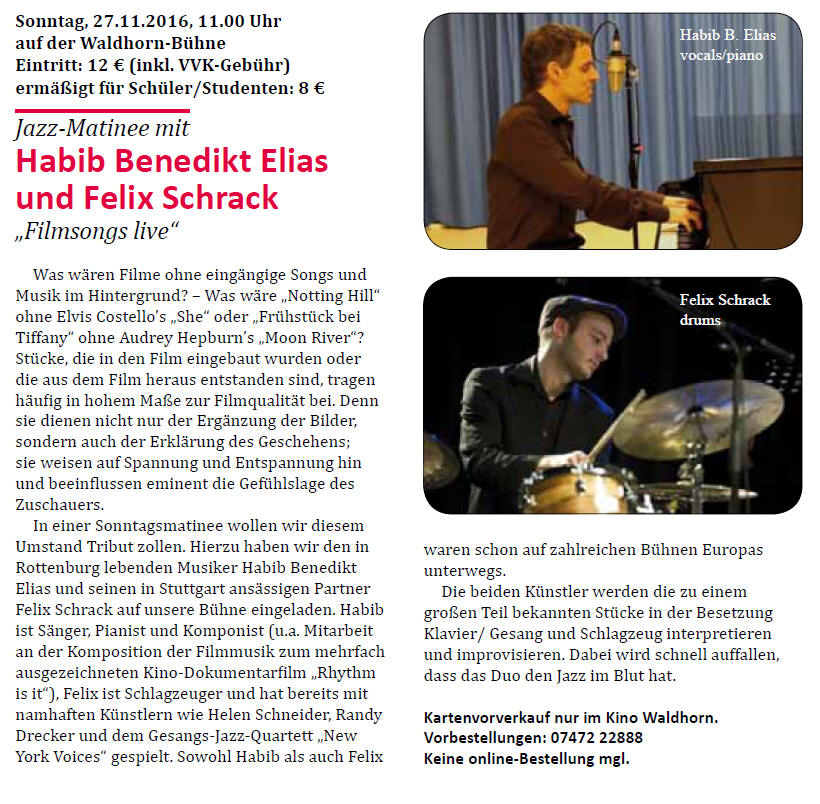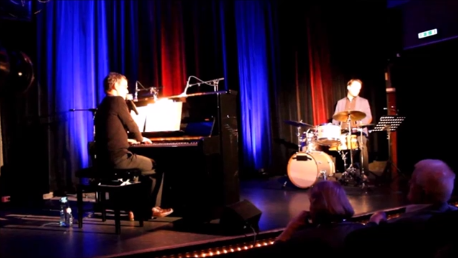 Video compilation from the "Movie songs" matinee concert, "Waldhorn" cinema Rottenburg, November 2016, duo with Felix Schrack: Drums.
"Voyage":
Jazz arrangements of songs in English, German, French, Portuguese, Spanish and Italian.
When the different sound colours and forms of expression of various languages connect with the interpretations and improvisations of jazz music, it's a musical playground, and at the same time it's a journey.
The title "Voyage" on the one hand refers to the musicians, the audience, who immerge into the language sounds and ways of story telling, on the other hand the songs themselves go on a voyage. They have, so to speak, to move from their comfort zone, to walk new paths. A song like "Sous le ciel de Paris" seems to be inseperably connected with the 3/4 waltz time signature, but it has charming aspects that are revealed especially when the 3/4 time signature almost doesn't appear.
In this project the poetic and popular French Chanson meets the Bossa Nova, which since the sixties has given new facets to jazz music, and standarts from the American Songbook meet philosphical Evergreens from the Italian cantautore Paolo Conte.